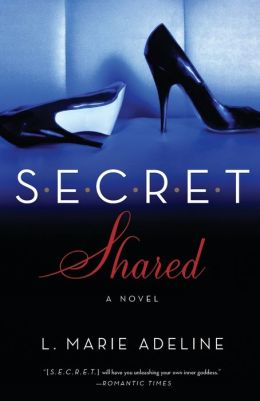 Book two in the Secret series.
This book is gold. If you don't want to read a gushing review just go get it and read it NOW!
In SECRET shared we follow the story of Cassie and Dauphine in good ol' New Orleans. Cassie is a recent graduate from the SECRET ladies club that helps sexually liberate woman and Dauphine is the current initiate. While I've come across books with similar intentions, they haven't been ground breaking reads but with Adeline it works! There is no fluff about the power of men to make a woman into a real woman. Instead it is about ten steps (see end of review) that help women rediscover and believe in the power of themselves. Note that I said RE-discover, because it's not that women never had belief in themselves, it's that somehow, something convinced them that they were unworthy and powerless.
Cassie is currently struggling with life after SECRET and the fact that the man she loves is having a baby with another woman. Cassie was going to leave SECRET to start a relationship with said love of life but with the baby on the way she turns to SECRET as a way of coping. Through an accidental encounter she meets Dauphine who has never been able to come back from her cheating boyfriend and best friend. I'm not surprised because her boyfriend sounds like a self absorbed prick and her best friend a lying selfish cow, she's better off without them. The hard part is the fact that idiot boyfriend becomes famous and using Dauphine as fodder in a book, causing her to hyper analyse herself. (If I could get my hands on that son of a-)
Cassie with the help of her mentor Matilda invite Dauphine to SECRET and Dauphine recognizing that she wants to make a change accepts. Dauphine is then on a roller coaster ride of self-discovery and sexual adventures. The scenes feels so real, the emotion is almost tangible. I admit to being a little jealous that imaginary Dauphine gets all of these wonderful experiences! She of course is much stronger than she believes and makes a wonderful discovery in her final step. Get it girl! Cassie, despite being the graduate, is struggling. She has no idea how to handle her situation and it doesn't help that she works for the guy. After a brief fling she tries her hand at recruiting and requests the return of a previous man from her ten steps (stepman?). It's refreshing to see that Adeline is not going to push twee happy endings. She shows Cassie's life after SECRET as still having problems, doubts and insecurities. SECRET is not a one stop, boom, you're fixed shop, it's a beginning. How Cassie's life continues you'll have to read to find out but I am definitely anxious for the next book!!!
What I loved most about SECRET shared is that Adeline keeps this strength of discovery and rediscovery in woman's hands and while the steps are often achieved with men it is not the presence of the man that enables the woman's transformation. Adeline is all about power to the women as you can see in one of my favourite quotes in the book:"The word slut, unless employed by iron-clad feminists or ironically by irony experts, has no business coming out of a woman's mouth, do you hear me? Not when she is describing her own sexual behaviour and especially if she's describing another woman's. It's the kind of word that can scar, Cassie... That word has been used as a weapon against women all around the world, since the beginning of time, to keep us feeling unworthy and separate." (pg. 80/197)
It's the combination of empowerment and fantasy that is the key to SECRET but also to Adeline's novel. It's not just a fiction novel that makes you feel happy it relates to real life issues like female struggles and empowerment, it's not just a fantasy situation in SECRET but how it affects a woman's view of herself in reality. That is the secret to SECRET and the magic of this book.
5/5
xxx
George
A HUGE thank you to NetGalley,
L. Marie Adeline
and Crown Publishing/Broadway Books for the advanced copy!!!
Is this review helpful? Vote YES on Amazon
Buy:
Amazon, Kobo, Barnes and Noble