Add to Goodreads
|
Amazon
|
Kobo
|
NOOK
|
"Never stay, Lacey. Promise me. Promise right now, that whenever things go bad in life, you will run. Never, ever stay."




Lacey Monroe was used to running. When things got bad, when things got dangerous, when there was a chance that she would get hurt – physically or emotionally – she did what her momma said. She ran. She kept running, until she landed in Salt Rock, Alabama. She meets Roam Cooper, the Vice President of the Mayhem Motorcycle Club and for the first time in her life, Lacey considers staying…and then, right before her eyes, her world falls apart. And she runs again.
Lacey's backstory is laid out at the start which gives us a better understanding of why she is the way she is. After the horrible trauma she's suffered at the hands of her parents it's no wonder when Lacey is faced with a difficult situation she over reacts. I wanted to bang my head in exasperation - why do so many female characters get written such ridiculous responses? - but with Lacey it makes sense that she runs because all she does is run. In fact I was waiting for the moment when she got too freaked out and ran, so it was slightly predictable.
Roam is such a Prince Charming. Prince Charming was a biker and had a pierced, ahem - well, let's just say Cinderella probably wouldn't have left at midnight. Overall, "Fighting to Stay" could have used a bit more development, I felt like the story went much too quickly and it was the bare minimum information. There could be so much more between the start and finish which could have bumped it from short, light and fluffy to wicked fabulous. Regardless, this is a wonderful story and Roam sounds like one gorgeous man - sparkling blue eyes, dimples and built - be still my heart. Grab a copy and give Roam a ride yourself, it's sexy time well worth a read.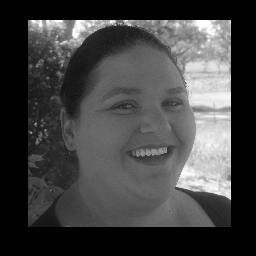 Kasey Millstead is Mum to four children and lives in NSW, Australia. She is the #1 Bestselling author of the Down Under Cowboy Series.Fighting to Stay, Steele Investigations series and the soon to be released Illicit Desire. She likes reading and writing (obviously), drinking with my girls, baking, scrapbooking and dancing (again with her girls).
Goodreads: